Trekking in the Himalayas of Nepal

Trekking

You don't have to be an Olympic athlete to tackle the Himalayas. Nor do you need any special experience. Trekking is just walking, and anyone who is moderately fit and has a sense of adventure will enjoy trekking in Nepal. The range of treks varies from short, gentle hikes through terraced foothills to lengthy expeditions to Everest's summit. Whatever your level of fitness or experience, you'll find an adventure waiting for you in Nepal.

How Langtang and Helambu Region like:

Langtang is a narrow valley that lies just south of the Tibetan border. It is located between the main Himalayan ranges to the north and slightly lower range of snowy peaks to the south. This high and isolated region is inhabited by Tamangs whose religious believes and practices; language, traditions and dress are more alike with those of Tibetan people. According to the legend a lama following a ranaway yak discovered the valley. So, the name -lang - is Tibetan for 'yak' and -teng-(more correctly dhang) means 'to follow'. Langtang valley offers an opportunity to explore villages, climb small peaks and what's more important pure nature surroundings will bring peace to your heart and you'll enjoy being part of nature.
Much of this region falls into Lantang National Park (Nepal's first Himalayan national park) and away from the larger settlements, you can enjoy seeing old-growth forest:
rhododendron, oak, alder, pine and much more. Beautiful flowers such as the sky-blue gentians of alpine regions, primroses of moist areas, epiphytic orchids of wet forests which bloom during many times of the year will accompany you on your way. Langtang is rich in rare species of animals being the region where one hundred and sixty species of birds (cuckoos, owls, barbets, nightjars, black-capped sibias, yellow-billed magpies- just few of them) and more than thirty species of mammals have been observed, including a very rare snow leopard, only a few dozen specimens of which survive in the entire Himalaya. This trekking route also offers you an opportunity to see sacred lakes of Gosainkund, which are holy places for Hindu and Buddhist pilgrims and said, were created by God Shiva.
The below listed packages with day by day description is our most popular combine tour of Sightseeing, Trekking, Rafting and Safari. Enjoy a complete experience of great diversity of Nepal.
Annapurna Region:
Muktinath is an important pilgrimage place for Hindus. The most colorful pilgrims to this area are the ascetic sadhus. There is a temple of Shiva and a padoga-style temple, Vishnu Mandir, which contains an image of Vishnu. Around the temple is a wall from which 108 brass waterspouts, cast in the shape of cows' heads, pour forth sacred water. And this is the case when more truly to use proverb: "Better once to see than many times to hear". The Tibetan Buddhist saint Guru Rimpoche is believed to have visited Muktinath in the 8th century.
From Annapurna valley floor (below 1000m.) to the summit of Annapurna (8091m.) there is unbelievable variety of habitats. While trekking in this region you can move between the flourishing subtropics and the austere alpine climes in a matter of days, witnessing the effect of altitude, topography and climate on life.
Trekking through rhododendron forests, which bloom from red to pink to white, depending on altitude in springtime. And as trail takes you upward from the roar of the powerful river the singing of various birds and calm sounds of nature will accompany you on your way. The dry forests of blue pine will gently protect your trekking from strong winds.
Many vibrant species of beautiful butterfly display their colours in the heat of the day in low valleys. Variety of wildflowers is in bloom long after the monsoon, thanks for the area's high rainfall. Look for composites (asters, daisies etc.) and the pleone orchids that bloom on trees. The wealth of mauve primulas can't be missed along the wet rock walls between Ghorepani and Ghandruk. You'll enjoy your unity with nature surrounded by highest mountains of the world.
Packages:
Everest Region: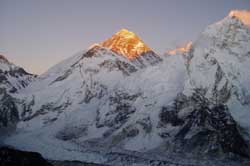 For decades, adventurers have been drawn to the romance of Mount Everest. The Everest Trek typically starts in Kathmandu with a coach trip to Jiri, followed by a week's trek to Lukla (2850 m). (If time is an issue, you can choose to fly straight to Luckla.) From Luckla you walk to the famous Sherpa village of Namche Bazaar and on to the Tengboche Buddhist Monastery, with its panoramic view of Everest (8848 m), Cho Oyu (8152 m), Lhotse (8516 m), Makalu (8463 m) and Ama Dablam (6456 m). Then it's across the glaciers to the foot of Mount Everest, and one of the most spectacular views of your life!
Itinerary and cost: Everest base camp trekking and Island peak climbing (21 days)
If you want to combine white water rafting, kayaking and extreme Bublick expedition with a trekking experience in the Himalayas or trip to Tibet you are always welcome. Our trekking branch - Nepal Mountain Trekking (P.) Ltd provides all the possible options on land adventure: trekking, hiking, peak climbing, rock climbing, jungle safaries, mountain biking, bird watching, sightseeing and a lot more...For more information please visit our trekking web site: www.Nepalmountain.com
We can organize your whole trip under one roof.
The packages below combined trekking with other activities recomended by our company, if you need Itinerary and cost detail please write us anytime: Write us
| | |
| --- | --- |
| Combined packages | Total trip days |
| Poon Hill Trekking - Kaligandaki Rafting - Chitwan Safari | 14 |
| Jomsom Muktinath Trek - Kaligandaki Rafting - Chitwan Safari | 16 |
| Everest Base Camp Trek - Bhote Kosi Rafting - Chitwan Safari | 20 |
| Langtang Valley Trekking - Sunkoshi Rafting - Chitwan Safari | 25 |
| Kangchenjunga Trek - Tamur Rafting/Kayaking - Chitwan Safari | 24 |
| Makalu Base Camp Trek - Arun River Rafting - Chitwan Safari | 25 |
Note: If the above packages doesn't suit your ideas or travel schedule please contact us as we are open for discussion and ready to help you for your safe, fun and memorable trip in Nepal.