Trekking in Nepal
Kathamndu-Pokhara Sightseeing/Ghorepani Trekking/Kaligandaki Rafting and Chitwan National Park visit (21 days)
Itinerary:
Day 01:Pick up from the airport and transfer to the hotel.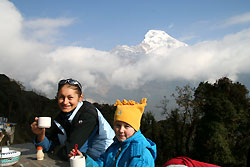 Day 02: Sightseeing tours
Full day Kathmandu valley sightseeing (Kathmandu Durbar Square, Swayambhunath stupa, Boudhanath stupa and Pashupatinath very famous Hindu temple).
Day 03: Drive to Pokhara and transfer to the hotel
Drive around 7am after breakfast 200km West from Kathmandu. Drive through beautiful hills, alongside Trishuli and Marshyangdi river and valley with mountain views. This journey takes about 7 hours.
Day 04: Pokhara to Pothana -1990m (5-6 hours)
Drive starts around 7am after breakfast to Phedi from Pokhara. Trekking starts with short steep climb passing terraces of rice fields and forest up to Dampus-1700m. Views of Machhapuchhare-69997m (fish tail), from Pothana are excellent.
Day 05: Pothana to Ghandruk (1951m) and overnight at guesthouse
Trekking starts around 7 am after breakfast. After short climb up to Deurali-2150m, where there are views of Annapurna south and Hiunchuli. Make a steep down through forests of many birds, ferns and orchids into a side canyon of the Modi Khola. After crossing river you begin to climb up to Ghandruk (Gurung) village.
Day 06: Ghandruk to Tadapani-2550m (3-4 hours) and overnight at guesthouse
Trekking starts around 8am after breakfast. Ghandruk is famous Gurung village with pleasant views of Annapurna south, Hinchuli and Machhepuchere and many other mountains. Tadapani means 'far water' as water supply in this village is long distanced.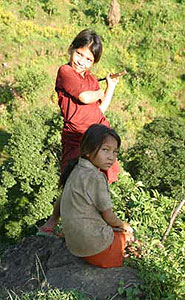 Day 07: Tadapani to Ghorepani-2855m (6-7 hours) and overnight at guesthouse
Trekking starts around 7am after breakfast. Long climb up to Ghorepani, passing through deep pine and rhododendron forest with some small waterfalls.
Day 08: Ghorepani to Tatopani-1189m (5-6 hours) via Poon hill (3150m) and overnight at guesthouse
Trekking starts around 7am after breakfast. Trekking downhill through oak, magnolia and rhododendron forest to some villages. Chitre, Shikha and Ghara to the trail joint from Beni. Soon after crossing the Kaligandaki River there are few ups and downs.
Day 09: Rest day in Tatopani
Tatopani means 'hot water' in Nepali and village took it name from the hot springs near the river below the village. There are two cement pools on the banks of the river. You'll enjoy food prepared by well-trained Cooks. Many shops, tailor, shoemaker, book- shops, several jewelers are among Tatopani's facilities.
Day10: Tatopani to Beni- (7 hours) and O/N at guesthouse
Trekking starts around 7am after breakfast. It's a long trekking day with several short ups and downs. Passing several villages through forest and landslide alongside Kaligandaki River. You'll enjoy sounds of powerful river and nature. You'll pass famous pilgrims village Galeshor and will have a chance to see from inside the lifestyle and culture of people.
Day 11: Rafting on Kaligandaki River (2-3 hours)
Drive to Kusma new bridge (1 hour) and start rafting on Kaligandaki River. Lunch will be served before rafting starts. Safety is our primary concern so that before start rafting your river guides give you safety instruction, commands for team work and demonstration as well for your safe and fun trip with us. Set up camp after passing couple of class 4 rapids name big brother, small brother and cave…
Day 12: Rafting on Kaligandaki River (5 to 6 hours)

Full day rafting and overnight camping. Lunch will be served half way of rafting. The river passes through narrow gorges, open valley, alongside waterfalls, Annapurna mountain views, and traditional Magar and Chetri villages. Friendly rapids, nature of alongside and huge sand beach for camping makes your trip fun and memorable with some cool beers in the evening.
Day 13:Rafting on Kaligandaki River and drive to Pokhara
This day rafting for about 3 hours only, lunch will be served at take out point. Just before finishing rafting there is famous Hindu temple to visit on Setibeni river confluence. After rafting drive to Pokhara (Approx. 4 hours). Overnight in hotel.
Day 14:Rest day in Pokhara
Interested people can go for boating in Phewa Lake and excursion to Begnash Lake (30 km east from Pokhara). Or just hang on the beer gardens and relax.
Day 15: Pokhara sightseeing tour
Early morning drive to Sarangkot for the amazing views of Annapurna, Lamjung Himalayan range and views of Pokhara valley. City sightseeing of the major attraction of Pokhara like: David fall, Mahendra cave, Tibetan refuge camp and Bindebasheni Hindu temple.
Day 16: Bus Trip to Chitwan National park (5 hours)
After breakfast 7am drive to CNP. On the way you will see rivers, waterfall and of course the Annapurna mountain views. Overnight in hotel.
Day 17: Royal Chitwan National Park
Full day activities in national park (elephant ride inside the national park, canoeing, jungle walk, visit elephant breeding center and culture dance at the evening)
Day 18: Royal Chitwan National Park and Kathmandu
Early morning bird watching and after breakfast drive to Kathmandu, transfer to hotel.
Day 19: Sightseeing tour
Morning drive to Dakshin Kali temple (Goddess of valor and victory of good over evil), on the return journey visit Shesh Narayan temple and Chovar gorge. Afternoon sightseeing tours in Patan (Durbar square, golden temple, the temple of thousand Buddha).
Day 20: Sightseeing tour
Sightseeing tours in Bhaktapur and continue drive to Nagarkot, overnight at hotel in Nagarkot (wonderful sun set view in the evening)
Day 21:Last day in Nepal
Early morning Sun rise and not to miss amazing mountain views. After breakfast drive to Kathmandu, shopping and transfer to the airport
For Cost details of above package, Please contact us.
Sightseeing tours:
Nepal offers the highest mountains in the world, a cultural heritage that is among the richest in Asia. Nepal will enrapture you with its natural and cultural diversity. Nestled in the middle hills of Nepal, the Valley of Kathmandu is a wealth of medieval art and architecture. Its profusion of Hindu pagoda temples, grand Buddhist stupas and artistic palace squares has been honoured as World Heritage Sites. They provide the setting for a vibrant culture marked by deep religious devotion.
Kaligandaki River:
Named after the much-revered Goddess Kali and descending from the valley said to be deepest in the world, this fabulous river (class 3 to 4+) offers a mixture of astounding mountain views and pure adrenaline with a full immersion into the wilderness
The beautiful scenery on this remote river makes it a favorite among those looking for a short to medium length trip. The river passes through narrow gorges and canyons, alongside tumbling waterfalls, traditional Magar and Chetri villages, inhabitants come near by the river to meet the rafters. There are superb opportunities to see the Annapurna Mountain ranges and variety of wildlife.
This is an ideal trip for those wanting to combine stunning and varied scenery with some classic rive action on a short to medium length trip. It is suitable for both reasonably experienced rafters and those new to rafting.
Royal Chitwan National Park:
Royal Chitwan National Park. is located in the southern Terai belt of Nepal. This is one of the most famous parks in Asia for its flora and fauna. It's home for one horned rhinoceros, monkeys, crocodiles, deer and if luck you'll catch a rare glimpse of the Royal Bengal tiger or leopard. Beside that, beautiful butterflies and over 500 different species of colorful rear birds. You'll enjoy Nepalese folk dances and music, Tharu dances and songs.