The History of Our Company
The history of our company started at the year 1992.
Bidur Thapaliya (1995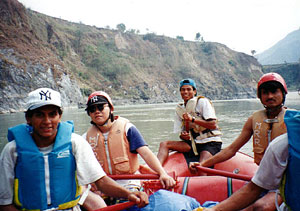 Our First Raft (1992)
Bidur Thapaliya was the original visionary behind the creation of the company specialized in organizing river trips in Nepal. Idea of company creation came hand to hand with his deep dedication and great motivation. Bidur Thapaliya is founder of "Mountain River Rafting" and he was the main rafting guide and managing director of the company. The company was established in November 1992 and it started with 1 raft and wooden paddles.
From the beginning of his career and company's history Bidur had strong believe and very clear vision that the company can be professional one only if it is run by professional specialists in the rafting field. As time was passing we were learning, training, developing skills, increasing our knowledge, trying to do our best for improvement in all possible ways for our company to be recognized as a team of professionals by the way we are doing our job. We've learned a lot along the way and we share this knowledge in our team ensuring quality of our services.
Most rewarding thing for us in our profession is to feel satisfaction of our guests and to see them returning to us year after year becoming our great friends!
Many river guides made first steps in whitewater filed with our company and we are happy that we could help them to start in profession. Circle of life is going on, some of guides who trained in our company 10 years ago or more live in different countries nowadays working as river specialists, some of them established their own rafting companies in Nepal, work as freelance or went other way but for us it's always pleasure to see positive results of people who made first steps in profession with us as they are part of our history.
In 1998 we organized our first river expedition. The first expedition was followed by successful river expeditions and first descents of upper sections of some rivers. Read history of our expeditions.
Our latest river expedition took place on Arun River in April 2008. Our Next expedition will be on the Dudh Kosi (the steepest himalayan river) and it's planed for autumn 2009.
Everything is developing with time, taking new forms and representations. Our company is not an exception. In November 2006 company "Mountain River Rafting Pvt. Ltd." went through separation of ownership and as a result we changed our name from "Mountain River Rafting" into "WhiteWater Nepal".
"WhiteWater Nepal Pvt. Ltd." As we are not just rafting trips organizer but we organize kayaking trips, boogie boat runs, cataraft adventures and bublick expeditions as well. The name "WhiteWater Nepal Pvt. Ltd." precisely shows range of our river activities and it emphasizes our deep and professional passion for whitewater.
Our first company started in 1992 with 1 raft and wooden paddles, now we are running our river trips on high quality self-bailing rafts, provide helmets, plastic paddles, lifejackets, wetsuits, dry bags, camera barrels, all necessary safety equipment. All our equipment is of world standard and quality.
Many things has been developed and improved with time. But we are the same as far as our attitude toward profession goes, our history and experience staying with us under whatever name we work and our focus since the year of our first company establishment in 1992 till now days is on your safe, fun and memorable river trip in Nepal !
Welcome on the rivers of Nepal!