Family Rafting/Kayaking Camping and Other Activities
Rafting is a great way to enjoy your time with family. Do not think you are too old for such stuff or that your child is too young for that. A river trip is different from any other vacations. Where else can you experience the thrill of passing through rapids, paddle waves, play sand volley-ball, relax on your own private sand beach accompanied by sounds of nature, enjoy delicious food cooked for you, and swap stories sitting by the candles on the sand all in the same day? And more over you can experience all these together with your family! Nepal is blessed with an abundance of rivers, it is the land where everyone finds river right for him. On what other vacation could people range from 5 up to … - there is no up age limit! Rafting is adventure for all! Make a trip which makes a difference experience and enjoyment!
Rafting with kids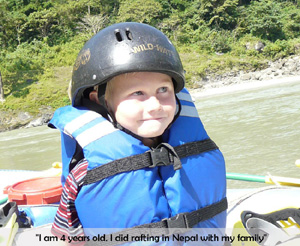 Try outdoor water adventure together with your kids. If your child is already 5 years old-this adventure for your family! Explore active way of holidays by paddling friendly rapids of Nepal's rivers together with your children. Enjoy being at nature surrounded by dazzling scenery of mountains, traditional settlements, accompanied by sounds of water and singing of birds.
Whatever length of the trip you desire you'll find right what you are looking for.
One day rafting trip
If you are short of time we provide one day rafting trip in Nepal. Your trip will start at morning and in the evening you'll be driven back to Katmandu by private transport. Just a one day but this day has so much for you to enjoy! Explore rapids of Trishuli River which are playful, yet still provide a thrill for the entire family, enjoy wonderful views of nature and time together with your family. Even one day on the river makes a difference! A river trip helps to escape hectic day to day rush, it helps you simply to enjoy life, to be with people who you love. A river trip brings out the best in people, it fulfills you with plenty of new experience and strength, brings you good mood, it is the easiest and the best way to feel happiness of spending time with family exploring new things at nature.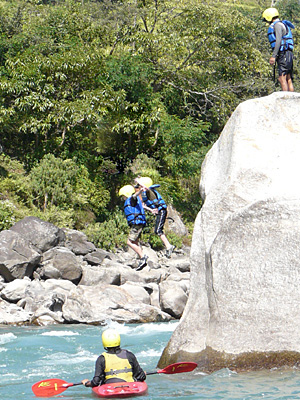 Week-end rafting trip
Spend two days enjoying the sights and sounds of Trishuli River or our new destination low Sun Koshi river, camping riverside and spending time with your family.
After rafting time for playing, exploring surroundings or relaxing on a sandy beach of the river. Our guides set up the camp, cook meals. After a delicious meal and stories by the candles, we settle in for a quiet night in the tents on the sandy beach.
Long rafting trips
Looking for quality family time away from the TV, phone and video games? Our family multi daysrafting trips combine adventure, scenery and relaxation to create great family rafting trip vacations. On long rafting trips we take everything with us on an extra raft and camp in the evening on one of sandy beaches. Every evening you can relax on a new sandy beach enjoying time with your family. Guides will setup camp and prepare delicious riverside meal. Our guides have a good knowledge of stories and legends which they will be glad to share with you by the candles' light in evenings.
We run multi days rafting trips on different rivers such as Trishuli, Seti Khola, Sun Koshi, Kali Gandaki. The length of trips ranges from 3 up to 10 days.
Have fun being with family going through the rapids of the river; learn to be tuff rafter, enjoy adventure and scenery, relaxing evenings. Be part of nature while creating memories that will last a lifetime.