Testimonials
Clients feedback
We take the opinions and suggestions of every our client very seriously. At the end of each trip we are asking to complete an evaluation paper so that it help us improving the quality of our services further.
Testimonials:
Here below some thoughts and impressions of our guests about their time with us:
---
Have a look their rafting photos of different rivers with us!!

---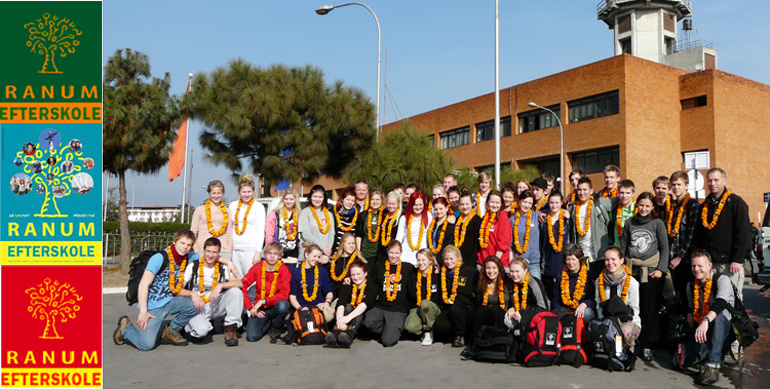 From January 4th to 12th, 2011 Ranum Efterskole from denmark visit our their friendship school in kavre district Mechchhe VDC-5 Mechchhe. Group of 45 students teachers including parents. Same time they did several activities organized by WhiteWater Nepal Pvt. Ltd. Please look at their feedbacks below.
Check their photos
---
From: Emily [mailto:etbloor@googlemail.com]
Sent: Wednesday, March 24, 2010 5:14 AM
To: info@nepalmountain.com
Subject: For Bidur
Namaste!
We've wanted to visit Nepal for a while now and are so happy we did! It was the best holiday we've had and we want to say thank you again to you, Olga and your team.
We visited Nepal in March, not really knowing what to expect, just that we wanted to come. We'd booked the Nepal experience tour as we had two weeks holiday and wanted to do and see as much as possible. So glad we did, as we did and saw so much more than we expected. Stunning scenery, fascinating history, unbelievable culture, friendly smiling people, vast nature, tasty food - one big adventure.
Thanks to Nepal Mountain's impeccable organisation, thoughtfulness and attention to detail, all we had to do was enjoy ourselves. On a practical level, everything was always super organised and had been carefully thought through: the order of what we did day to day, the choice of the hotel, where we climbed and the balance of relaxation vs physical challenge. Wherever we went, someone from the team was there waiting to pick us up, carry our bags, arrange our meals and help us with anything we needed.
Safety was paramount all the time especially on the white water rafting trek where we felt safer than doing it in in Europe last year. Amazing rapids and scenery left us with memories which will last. Jungle trekking in Chitwan was awesome. We'll never forget being punted down the river alongside crocodiles in a dugout canoe and squaring up to a rhino perched on top of our elephant. And finally why most of us come to Nepal, the captivating mountains and their magnificent snowy peaks.
We can't thank them enough, Bidur, Olga and their team; Shiva the town guide with his inexhaustable knowledge, Ram our mountain guide who was lots of fun, so informative and attentive during our 5 day trek, our smiling porter and driver who helped us and the rest of the team who made us feel so welcome.
If your're thinking of visiting Nepal or can't make up your minds, DO IT! It'll be the best holiday you've taken in ages and you won't regret it.
Namaste!
Emily and Gavin from UK

---
From: Angela Sng [mailto:ambersky268@yahoo.com]
Sent: Monday, April 18, 2011 9:42 AM
To: Nepal Mountain Trekking
Subject: Re: Nepal Mountain - 15 day Langtang-Helambu Trek
Hello Bidur
I managed to locate ganga sherpa's email address. Thanks.
Our comments :
"We were very well taken care of by Bidur and his team during our trip. The 7-day Helambhu- Gosaikunda trek is challenging especially if you come from sea-level like we did, but the views are breathtakingly beautiful, especially at the Mangin Goth viewpoint which offered a 360 degree panoramic view of the mountains above cloud level. We saw the sunset perched from the vantage point, and it was incredible. It would have been better to have taken an extra day or two with the trek so that we could have had more time to acclimatize. The kids loved the 2-day river rafting trip after that. It was definitely one of the highlights of the trip. Bidur is an excellent rafting guide and camping on the beach for the night was great. Thank you Bidur for a most memorable family trip."
Keep well !
Warm regards
Angela and Boon, Aidan, Ethan and Amber from Singapore
---
The Summers Family Rafting Holiday
Thanks to Bidur and his Team for a really great couple of rafting trips. The children had a brilliant time:
I really enjoyed jumping off the rocks.
Alex
age 9


I really enjoyed Jumping into the Water from the raft and playing in the kayak at the end of the trip
Pascale
age 10

I liked watching you cook and camping and rafting.
Elise
age 6
Dylan (age 4) loved the rapids and swimming in the river.
We all enjoyed camping by the river, the great food, the excitement of the rapids and the wonderful team.
From Debbie, Guy and Children
(The Summers Family)
October 2008




---
Dear Bidur, Olga and Staff
Thanks to you we have had a wonderful trip around your country. We appreciate your cooking, you being so open minded and your smiles.
With all our heart we want to thank you.
your Sincerely, Nete and Ranum Efterskole Team
February 3rd 2009
---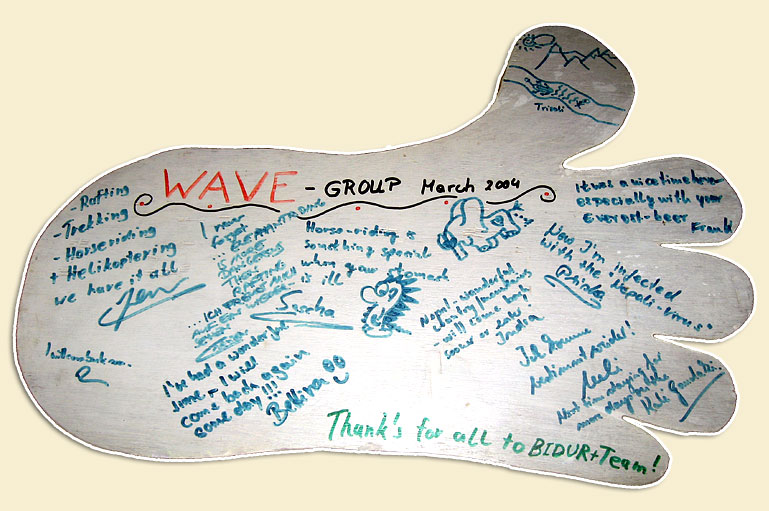 ---
The dream of a young girl…
It has been eight years now since I first discovered the beauty of Nepal. On my way home from New Zealand, where I worked for 2 years, I decided to make a stop in S-E Asia in order to make a young girls dream true and visit the highest mountains of the world, the Himalayas. After a stop in Thailand I arrived totally unprepared in Kathmandu, I had only one plan and that was to go to the mountains, but somehow I got talked into doing a rafting trip first. This is how I parted for my first river experience on the Sun Kosi and I must say a total new world opened up. Watching the village life go by while floating on the river, surrounded by the most incredible nature, and trying to conquer rapids of raging water is an amazing experience. It will be hard to find anybody who will proclaim differently. Somehow the contrast between the shots of adrenaline felt while going into the rapids and the feeling of peace and respect for so much beauty surrounding you, makes the rafting an experience never to forget. For me, I just wanted more, and Bidur and his team gave me the opportunity to discover rivers like the Marsyangdi, Tamur, Trisuli, Karnali, Bhote Khosi, etc. For this I feel indebted to him forever because through the rafting I discovered a different Nepal with its amazing people. The river gave me access to even very remote areas where no road can take you and my love for the country only grew.
Now, in august 2007, I am back in Nepal and I've already been trying out the rivers again with Bidur and his wife Olga. The feeling is definitely still the same!
Although this time I am not here as a 'tourist' but as a researcher, hoping to give something back to the people of Nepal who once gave me so much. The Maoist conflict raged over the country for more than a decade affecting mainly the rural populations of Nepal. The aim of my research is firstly to find out in which way the rural populations in the Hills have changed their livelihoods during the conflict in order to survive. Secondly I would like to investigate how these surviving strategies are changing again during the current peace process. And finally I hope the findings of this research might be useful for NGO's and other development agencies providing them with a better insight in the livelihoods of conflict-affected people in order to implement projects which better respond to the real needs of the people.
Please check www.researchinthehimalayas.blogspot.com for more information about my research, the language used is Dutch.
Again, after 8 years, the hospitality of the Nepali people strikes me; even after so much suffering they keep on smiling and try to be positive about the future of their country. I hope with them for an everlasting peace in Nepal.
Finally, thank you Bidur and Olga for your never ending hospitality and valuable help for my research. I admire your inspiration and determination in pursuing your dreams. All the best of luck!
Anne,
Belgium
---
Our clients included Nepal in their World Tour plan. Visit their link of Nepal part with many nice pictures and information, their pictures tell itself: http://www.bella-and-ralf.de/9936.html
---
'When I arrived at the side of the river for the first time I had no idea what to expect, I even asked the guide if he thought that I might get wet. He was kind enough not to laugh at me.
That was last year; one year and six river journeys later I know that you get very very wet, feel terror in your heart in some of the class 5 rapids, wonder in your soul at the staggering beauty of the rivers and surrounding areas and you know that each river journey will be forever imprinted in your memory.' - Alison Blanchard, Portugal
---
I first came to Nepal as an independent traveler in 1991 to trek in the Everest region. I had read many guide books and spoken to other trekkers but none of this had fully prepared me for my month in Nepal. I soon befriended the staffs of my hotel who were extremely helpful and a friendship developed which was to last in future years.
In 1993 some friends came to Nepal from the UK and I put them in touch with my contacts that had now started their own Rafting company name "WhiteWater Nepal". They were made extremely welcome and found them to be equally as helpful in assisting them with their plans.
In 1996 I returned to Nepal to undertake the Annapurna Circuit and found that the rafting company had expanded and were now also in the trekking business. Once again my contacts and good friends assisted me greatly in a successful expedition.
I returned for what I thought would be my final trek in 1998, completing both Langtang and Helambu.
I have remained in contact with my friends at Nepal Mountain Trekking and have directed many independent and groups of travelers to their agency over the years and all have reported a first class service and lasting friendship.
I have been fortunate enough to return to the Everest region one more time with some work colleagues and have again been able to take advantage of the first class service provided by my friends.
Three out of the four members of my party are now in their forties and we were concerned about the terrain and altitude which I had previously struggled with some thirteen years previous. All my fears were quashed when I again called upon the services of this company.
I have been more than impressed by the professionalism and enthusiasm which has become the trade mark of Bidur and Tej and their staff and will continue to promote their services as much as possible in the knowledge that it is first class.
If you ever find yourself traveling to Nepal then you must pay them a visit. Not only will you have a great time whether it be trekking or rafting but will also make everlasting, true friends.
- Martin Smith, (Derbyshire Police, UK) (Independent traveler, Great Britain)
---
'I thought that I would take one rafting trip when I got to Nepal, I had heard that it was good there. That was not true, it was amazing! I postponed my flight to Thailand, stayed in Nepal for an extra month and took as many rafting trips as my credit card would sustain. WhiteWater Nepal are the business; great people, lots of excellent food and also real value for money. My ambition is to raft all the rivers in Nepal with them.' - Martin Tuff, UK
---
'I came to Nepal and fell in love. I fell in love with the people of this wonderful country, its culture and the beautiful scenery, this was partly because of the excellent rafting experiences I had. WhiteWater Nepal are a superb company with well-trained guides that I felt very secure with as a first time rafter. I would definitely use this company again.' - Eva Hendriksen, Netherlands
---
'Wonderful, wonderful Nepal, what can I say, I have had such a magical time here and I can't wait to come back. I never thought that I would try rafting, it looked far too scary for me, but my two trips on the the Kali Gandaki and Sunkoshi were perfect in every way.'
- Michelle Brooks, England
---
For a long time there was the dream " Whitewater Kayaking" in Nepal. One afternoon in the late summer some friends visited me. They saw the white water guide book laying on my table. From this moment on they were also infected by the idea to come to Nepal for kayaking.
We planned the rivers we want to kayak and we were looking for a rafting company to support our plans. So we got into contact with Bidur from WhiteWater Nepal. With the help of Bidur we detailed and modified the plans for our white water expedition. So we arrived in Kathmandu more than one year after the above mentioned afternoon in the beginning of November.
We were at the Karnali and enjoyed the days on the river. Khim and Shankar paddled the raft with the camping equipment and food, we (a group of 4 guys) paddled in our kayaks. Our raft guides did well in explaining the river and showing the best way down through the big rapids. Also beside the river they did a really good job in finding excellent camp sites and cooking.
The next destination was the Modi Khola and Kali Gandaki. There we took all our camping stuff and food in our kayaks. We had challenging days on the rivers, especially on the Modi Kola, a very steep creek. WhiteWater Nepal organized the shuttle and the porters to the put in and the shuttle from the take out.
Also for the Marsyandi the transportation was managed by WhiteWater Nepal. We paddled 4 days on this world class river with outstanding scenery.
After 4 weeks holiday in Nepal I only can recommend to come to Nepal for kayaking, to make a cultural experience in Kathmandu and to enjoy the friendly people here. Go kayaking below the highest mountains in the world and make your dreams come true.
You should not worry about big organization work before. Contact WhiteWater Nepal, tell your wishes and they will arrange great trips for you.
Thank you Bidur, Khim and Shankar
- Toni Griessbach with friends , Germany
---
References of WhiteWater Nepal Pvt. Ltd.:
Graziano Papi
RIVERLAND
Associazione Sportiva e Dilettantistica
Via Caduti di Cefalonia 11 . 40024 Castel San Pietro Terme - Bo
Tel/fax: (+39) 051 6951235
Cel: (+39) 333.7771120
URL: www.riverland.it
Email: info@riverland.it
Thomas Schmitz (Germany)
Hochstadenstr. 50
41189 Moenchengladbach, Germany
Tel.: 049-2166/950051
E-mail: Thomas2807@t-online.de
Steven McGrath (Canada)
River Guide, Outdoor Professional.
Box 61036 Kensington PO
Calgary AB
T2N 4S6
E-mail: stevenmcgrath@hotmail.com
Saba Nordstrom
Vienna, Austria
Email:sabanordstrom@hotmail.com
Anne Popelier (Belgium)
Komvest 14, B - 8000 Bruges,
Tel: +32-474-536136
E-mail: youluckything@hotmail.com
Michael Mohr (Germany)
Hoehenberger Str. 30,
D-51103 Köln
Tel.: +49 221 3905795,
E-mail: michaelmohr@web.de
Website: http://www.michaelmohr.de
Guido Santi (Germany)
Vorstadt 41,
D74354 Besigheim
Germany
Tel: 0049 7143 469991
E-mail: Santi@Foto-Kreativ.de
Lok Kok Jin, (Malaysia)
No.3998, Jalan Tok Hakim,
15000 Kota Bharu, Kelantan,
West Malaysia
E-mail: kamsumwangdu@hotmail.com
Francis Barrett (Canada)
5862 Duquesne
Montreal, H1M2K4
QC, Canada
(514)252 8078
E-mail: francisbarrett@hotmail.com
Cathrine Fragell Darre (Norway)
Lardalsgate 49B, 3112 Tønsberg, Norway
E-mail: cathrinedarre@msn.com

Olga Sibiriakova (Russia-Siberia)
E-mail: Olgabid@hotmail.com

Fanny Leung (Hong Kong)
14A, Tower 6, Jubilant,
33 Ma Tau Kok Rd,
E-mail: akromm@yahoo.com
Alan Ng (Malaysia)
E-mail: alanng@dc.com
E-mail: alan_ng88@hotmail.com
Sharad Humagain (USA)
238 Warren St.
Hudson, NY 12534
Tel: 518-828-6838
E-mail: sharad_humagain@hotmail.com
Toni Griessbach (Germany)
Ringstr. 2a, D-82544 Egling, Germany
Phone: 0049 8171 40 98 79
E-mail: Anton.Griessbach@gmx.de
Website: http://www.dia-ag.de
Raineri Mathieu(France)
Please contact Mr Raineri Mathieu if you are in France to have traveling info. to Nepal and tibet.
E-mail: mathieuraineri@hotmail.com