What is Kayaking?
Kayaking is usually an individual water sport. Kayaks are made from a special type of plastic and have floatation devices inserted to aid buoyancy. Kayakers move through the water with a double blade paddle understanding river flow, negotiating rapids and obstacles on the river, enjoying unity with nature and the river.
Kayaking in Nepal

With its wide range of rivers and wealth of challenging rapids, Nepal is the perfect destination for kayaking. Whether you are a total beginner or an experienced white water kayaker keen to tackle one of our more challenging rivers, we can arrange a fun and rewarding kayaking experience for you.
Kayaking school:
Our kayaking school is particularly popular, and we are glad to see many familiar faces return to us to enjoy increasingly exciting river journeys. More about our kayak school.
River Trips for experienced kayakers.
We run trips for experienced kayakers on all the permitted rivers of Nepal.
Whatever your experience in kayaking – there is the river for everyone in Nepal!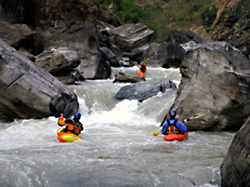 Our river trips range in length and difficulty, so we can help select a river to match your level.
If you prefer, you can accompany one of our rafting trips or make you way on your own river journey.
You can make river trip with one of our kayak guides or as part of a group as well.
Important Notes:
We are professional kayakers, we love rivers, we know our rivers and we can understand every paddler. So that we do not propose readymade packages for kayakers on our web site as we do not want to limit unlimited possibilities! Just let us know your interest and ideas and we'll do our best to create perfect plan for your kayaking in Nepal!
Welcome to the rivers of Nepal with us!
We can arrange kayaking trip on all and every permitted rivers of Nepal, whether you want to paddle popular rivers or prefer to enjoy more remote and hidden ones willing to run some sort of kayak expedition - possibilities can be only limited by your time schedule and interests!
Enjoy Kayaking!
We organize river expeditions on upper sections of the rivers, doing first descents and if you are expedition paddler and want to join our team in one of our expedition - you are welcome!
Want to know more about what we we are doing? Please, have a look
Safety on our kayaking trips:
"WhiteWater Nepal (P.) LTD." takes the safety and security of all its clients very seriously. It is our primary concern and reflected in every aspect of your time with us.
• All our guides are licensed, trained in CPR, first aid and advanced river rescue techniques.
• All our equipment is world class, up to date and carefully maintained.
• We ensure that the kayaks in use are suitable for the clients and meet their needs.
• We prepare all food with the utmost attention to hygiene.
• Whenever possible we use our own WWN private minibus and driver.
What we provide:
Before your river journey you will be invited to an orientation meeting to discuss details of the trip. There will be opportunities at this meeting for you to ask any questions that you may have, discuss any personal requirements, such as a special diet or medical conditions that could affect your trip.
• We provide plentiful, healthy and hygienically prepared food and drinks.
• Along with our kayaks, we provide all necessary and related kayaking equipment and body wears, dry bags, camera barrels, all necessary safety and medical supplies.
• Tents and sleeping mats are also provided. Sleeping bags can be arranged upon request.
• All our equipment is of the highest quality, clean and well maintained.
• On all of our trips there will be a supply raft or road support that will transport all the gear that is needed for the duration of the kayaking trip.
What to Bring
In some ways it is the best to bring as little as possible to the river. There are however, some essential personal items.
Please bring:
• Light weight clothing that will dry quickly, eg. shorts, t-shirts, swim wear for the river
• Warm clothing for the evenings including a fleece or pullover
• Sun cream and lip protector
• Sunglasses (with retaining device) or a cap
• Towels
• Toiletries (environmentally friendly is best!) and any personal medication
• Flashlight
• Footwear that will stay on in the river, river sandals or tennis shoes are the best. Footwear for the evenings
You may also want to consider bringing:
• Camera, spare film and batteries
• Walkman/Discman
• Spare glasses/contact lenses
• A book to read
• Your diary and a pen
• Snacks/treats/cigarettes
• A small amount of money
• A positive attitude
What You Need to tell Us
It is essential that you inform us of any medical conditions that may affect your well being on the trip.
Don't forget to request vegetarian or other special meals if required.
See you on the rivers of Nepal!