What is Whitewater Rafting?
White water rafting is negotiating river rapids and obstacles in an inflatable rubber boat with a team of up to eight people and a river guide. Rivers are graded from easy to near-impossible according to their size, the intensity of their rapids and the difficulties that may affect rescue attempts.
Whitewater Rafting in Nepal
Whatever your desire for adventure, it is easy to find the perfect river in Nepal. With a wide range of difficulties from a gentle 1 day float down the Trisuli river, to an exhilarating 10-day adventure through the rapids of the remote Tamur or Karnali. There is an experience for everyone waiting in Nepal's famous white waters. Nepal's rivers change with the seasons. Each year, after the heavy monsoon rain the waters swell, changing the run of the rivers and the nature of the rapids. New rapids are created; others become more difficult and some simply impossible to navigate. It is important to remember that some of the white water action you are about to read about could have changed by the time you come to run the river. At WhiteWater Nepal we are constantly monitoring changes in the rivers and their rapids, so that we can always ensure the safety of our clients and plan expeditions with precision...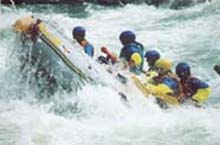 Short Rafting Trips
Short trips take between one and four days and do not involve any trekking. Some of these trips involve less challenging white water and are ideally suited to first time rafters and families. Others attract experienced thrill-seekers looking for world class rapids.
Short River Rafting Trips with River Detail
Long Rafting Trips
Our longer trips take you into some of Nepal's most remote areas. Often they begin with short treks to the river. On these treks we employ local porters to carry our gear and supplies, so all you need to carry are your own personal belongings.

Many of our long trips finish close to some of Nepal's less easily accessible National Parks and Wildlife Reserves (the Karnali trip actually finishes in the Bardia National Park). So you may wish to combine your rafting trip with a safari adventure and go in search of our native tigers, bears and rhinos!
Long River Rafting Trips with River Detail