Kayaking School of WhiteWater Nepal

Ever run a white water river in your own boat? Just you and the challenge of the river. Run rapids, surf big waves, all the fun stuff. Need some skills? We can help you with that.
Our kayaking courses for beginners make it sure that even first-timers can enjoy.
We can teach everything you need to know. Paddle strokes, river maneuvers, rolling, reading water, whitewater and kayak safety and more.
We have all the latest equipment and would love to teach you. We are Team of internationally trained and internationally experienced kayak instructors with European and Nepalese certifications.
Kayak Clinic: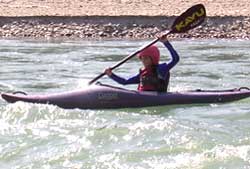 Come to Nepal, join our Kayak Clinic and experience the excitement of Whitewater Kayaking on warm and friendly rivers!
On the basic four-day kayak course (longer courses are also popular and can be easily arranged) our instructors start you off with basic skills in calm water and build from there. The course progresses at your own pace, giving you a solid grounding in safe kayaking principles. By the end of the four days you will be able to read the water, maneuver your kayak through the rapids and have fun on any river.
Upon completion of your kayak course, you are welcome to join us on a longer trip with raft support.
Four-day kayak course on the rivers of Nepal:
Best Rivers:
Seti, Trisuli and Lower Sun Kosi
Best Seasons:
Autumn - October to December,
Winter - December to February
Spring - March to May
Summer - Not the best season to learn kayaking in Nepal

Course Includes:
Both way Transportation, All the paddling gears (if needed wet suit-long john), great meal 3 times a day, one instructor for max. 5 customers as you have better chance to develop your skill fast, All the necessary camping gears and support raft to transport your personal items, camping gears and food.
Course doesn't include:
Expenses of personal nature, Insurance of any kind (this can be arranged on request), alcohol beverage, tips etc. For more information please Contact us, Or want to book Go for booking
Important Notes: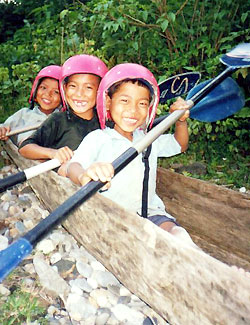 We work on an individual and personal approach, considering our every client. Kayaking school can be arranged according to your travelling and time schedule. Just let us know your plans and interests and we'll do our best to provide you with kayaking course which will perfectly fit your interests and schedule!
You have desire to learn – we'll find the way for you to do it!
We run kayak courses for total beginners as well as for those who have some experience of kayaking and want develop skills further. Our qualified kayak instructors have the experience and skill to teach beginners the basics and help paddlers with some experience to brush up on their whitewater technique. Just let us know your interests, understanding this we'll provide you with kayak course you are looking for.
Enjoy kayaking on the rivers of Nepal!
Safety
"WhiteWater Nepal (P.) LTD." takes the safety and security of all its clients very seriously. It is our primary concern and reflected in every aspect of your time with us.
• All our guides are licensed, trained in CPR, first aid and advanced river rescue techniques.
• All our equipment is world class, up to date and carefully maintained.
• We ensure that the kayaks in use are suitable for the client and meet their needs.
• We prepare all food with the utmost attention to hygiene.
• Whenever possible we use our own WWN private minibus and driver.
What we provide
Before your river journey you will be invited to an orientation meeting to discuss details of the trip. There will be opportunities at this meeting for you to ask any questions that you may have, meet your kayaking teacher and discuss any personal requirements, such as a special diet or medical conditions that could affect your trip.
• We have our own private transportation to take you to and from the river. When our own coach is not available then we provide a privately booked alternative.
• We provide plentiful, healthy and hygienically prepared food and drinks.
• Along with our kayaks, we provide all necessary and related kayaking equipment and body wears, dry bags, camera barrels, all necessary safety and medical supplies.
• Tents and sleeping mats are also provided. Sleeping bags can be supplied upon request.
• All our equipment is of the highest quality, clean and well maintained.
• On all of our trips there will be a supply raft or road support that will transport all the gear that is needed for the duration of the kayaking trip.
What to Bring
In some ways it is the best to bring as little as possible to the river. There are however, some essential personal items.
Please bring:
• Light weight clothing that will dry quickly, eg. shorts, t-shirts, swim wear for the river
• Warm clothing for the evenings including a fleece or pullover
• Sun cream and lip protector
• Sunglasses (with retaining device) or a cap
• Towels
• Toiletries (environmentally friendly is best!) and any personal medication
• Flashlight
• Footwear that will stay on in the river, river sandals or tennis shoes are the best. Footwear for the evenings
You may also want to consider bringing:
• Camera, spare film and batteries
• Walkman/Discman
• Spare glasses/contact lenses
• A book to read
• Your diary and a pen
• Snacks/treats/cigarettes
• A small amount of money
• A positive attitude
What You Need to tell Us
Please tell us if you are a non-swimmer, or not very confident in the water. Also it is essential that you inform us of any medical conditions that may affect your well being on the trip.
Don't forget to request vegetarian or other special meals if required.
Welcome to the rivers of Nepal!