WhiteWater Nepal - Trisuli River Rafting/Kayaking
Fact Sheet
'Trishuli River: Meaning - 'The Classic River' (1 to 2 days)
| | | |
| --- | --- | --- |
| Season | Grading | Water Volume |
| September - December | 4 | Approx.300 cumecs |
| January - May | 4- | Approx.200 cumecs |
| June - August | 4+ | Approx 450 cumecs |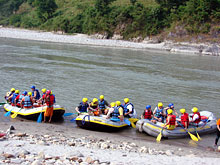 Location, Transportation and Timetable
The put-in point for Trisuli River Rafting/Kayaking is located just 3 to 3.5 hour drive west of Kathmandu, making it an excellent choice for short trips, or for those who are en route to Pokhara or Chitwan National Park.
The Trisuli can be rafted for 1 to 3 days, 15 - 60 km. Most people do the classic two day trip. The return journey to Kathmandu is 5 hours, to Pokhara is approximately 4 hours and to Chitwan is approximately 1 hour.
WhiteWater Nepal arranges private or tourist bus transportation to the put-in point, usually Charaudi. (This may differ for longer/shorter trips and depends on the season). Transportation from the take-out point of Trisuli river trip is also arranged to whatever destination is next for you.
Description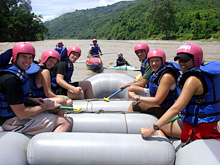 The scenery of river Trishuli includes small gorges and a glimpse of the cable car leading to the famous Hindu Temple Manakamana.
For the most of the year the rapids encountered on the Trisuli are straightforward, easily negotiated and well spaced out. Trisuli river is an excellent river for those looking for a short river trip, without the challenge of huge rapids, but with some really exciting rapids, with beautiful scenery and a relatively peaceful environment. During the monsoon months the intensity of the rapids increases and attracts a radically different set of rafters. But there are sections for rafting during the monsoon for those who are looking for simply exciting trip!
What we provide

Along with our high quality self-bailing rafts, we provide helmets, plastic paddles, wetsuits, lifejackets, and first aid kit.
We provide plentiful, healthy and hygienically prepared food and drinks. Tents and sleeping mats are also provided. Sleeping bags can be supplied upon request.
All our equipment is of the highest quality, clean and well maintained.
What to bring
Please bring with you shorts and a T-shirt or swimwear for on the river, suitable footwear for wearing in the raft, warm clothing for the evenings, a towel, sun block and your camera. A flashlight is also useful.
What you need to tell us
Please tell us if you are a non-swimmer, or not very confident in the water. Also it is essential that you inform us of any medical conditions that may affect your well being on the trip.
Don't forget to request vegetarian meals if required.
Safety
" WhiteWater Nepal (P.) LTD." takes the safety of its clients very seriously. All our guides are licensed, with many years of experience on the rivers of Nepal and European countries. All are trained in CPR, First Aid and advanced river rescue techniques.