New Challenges
Challenge of Dudh Koshi River down Everest 2003
Third international expedition "Tomsk-Himalayas 2003", October 23 - December 4, 2003, Himalayas Nepal is finished successfully.
The main sport task - rafting down Everest by the river Dudh Koshi - is made jointly by sportsmen of Tomsk regional rafting Association, Tomsk, Russia and WhiteWater Nepal, Kathmandu, Nepal. Expedition made first descent by double catamaran "Kulik-maxi" (made in Novosibirsk, Russia) of upper Dudh Koshi (down the rivers Chola Khola, Lobuche Khola, Imja Khola , Dudh Koshi) from the Lake Chola Tso to the Tengboche monastery with the carrying by the bank the waterfalls complex under Tengboche and gorge under Namche Bazzar.
Expediton made first descending of middle Dudh Koshi from Namche Bazzar to Cheplung with carrying by the bank waterfalls complex under Lukla gorge. Lower Dudh Koshi has been rafted from Adheri to the confluence with Sun Koshi by double catamaran "Kulik-maxi" and super raft "booblick" (made in Novokuznetsk, Russia) The whole rafted distance is about 130 km. Starting altitude 4600m . Final altidude 500m.
The river is top class of difficulty. In frame of expedition the team climbed up pick Kala Patar (5550m)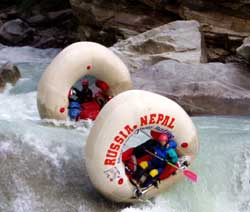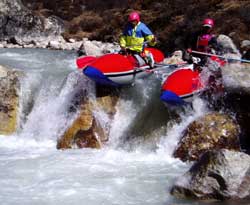 The expediton is dedicated to the 400 jubilee of Tomsk, Russia and memory of British kayaker Mike Jons who first tried kayaking down Everest in 1976.
The team claims first complete rafting down Dudh Koshi except unrunnable waterfalls using big volume watercrafts - "Kulik-maxi" and super craft "booblick"
The team:
Evgenii Kovalevskii, Tomsk, Russia - Leader of the expedition
Gennady Maznev, Tomsk, Russia and the Team of WhiteWater Nepal Pvt. Ltd.