WhiteWater Nepal - Karnali River Rafting/Kayaking
Fact Sheet
'River Karnali' - meaning 'Holy Water from the Sacred Mountain' (10 days Kathmandu to Kathamndu)
| | | |
| --- | --- | --- |
| Season | Grading | Water Volume |
| September - December | 5 | Approx.550 cumecs |
| January - May | 5- | Approx. 300 cumecs |
| June - August | Not runable | Approx. 1350 cumecs |
Location, Transportation and Timetable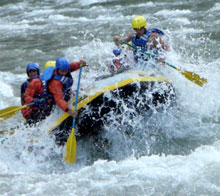 From Kathmandu to Kalyandada via Birendranagar involves a 22 hour bus journey. (Or a one hour flight to Birandranagar, on additional cost, then a 2 hour bus journey). From Kalyandada there is a 2 to 3 hour trek to Kareleghat, the put-in point for rafting on Karnali river. Porters transport all the rafting equipment and other necessities for the river trip. The 180km river action takes between 6 to 7 days. Bus transportation is provided from the take-out point of Karnali river rafting at Chisapani to either Pokhara (10 hours) or Kathmandu (16 hours). There is a orientation meeting early in the evening before the trip, providing you with an opportunity to ask any questions you may have, to meet your fellow rafters and your raft guide and team.



Description

The lowland trek combined with some of the most beautiful canyons found in Nepal makes Karnali rafting/kayaking one of the most memorable river trips available in this country and it is often a favorite river trip of guides and rafters alike. There is a wide variety of fauna and flora including dense forests, jungle and also remote villages.
After monsoon rains the rapids of Karnali river are demanding and huge, though relatively straightforward. As the river flows through some quite narrow canyons the flow of the water increases, as does the frequency of the rapids. In low water the demands on the rafter are more technical, though equally exciting.
Karnali rafting is an ideal trip for those wanting a more unique experience of Nepal, stunning scenery, great river action and all the benefits of a long river trip in Nepal. It has the added advantage of the take out point being ideally situated for those wishing to visit Bardia National Park. Karnali river is one of the best river in Nepal for fishing!
What we provide
Along with our high quality self-bailing rafts, we provide helmets, plastic paddles, wetsuits, lifejackets, and first aid kit.
We provide plentiful, healthy and hygienically prepared food and drinks. Tents and sleeping mats are also provided. Sleeping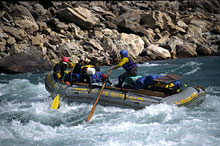 bags can be supplied upon request.
All our equipment is of the highest quality, clean and well maintained.
What to bring
Please bring with you shorts and a T-shirt or swimwear for on the river, suitable footwear for wearing in the raft, warm clothing for the evenings, a towel, sun block and your camera. A flashlight is also useful.
What you need to tell us
Please tell us if you are a non-swimmer, or not very confident in the water. Also it is essential that you inform us of any medical conditions that may affect your well being on the trip.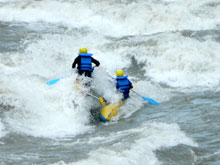 Don't forget to request vegetarian meals if required.
Safety
WhiteWater Nepal takes the safety of its clients very seriously. All our guides are licensed, with many years of experience on the rivers of Nepal and other European countries. All are trained in CPR, First Aid and advanced river rescue techniques.
Welcome to Karnali River Rafting/Kayaking with "WhiteWater Nepal (P.) LTD."